Top 10 Myanmar traditional food that you shouldn't miss
Posted on Fri August 21, 2020.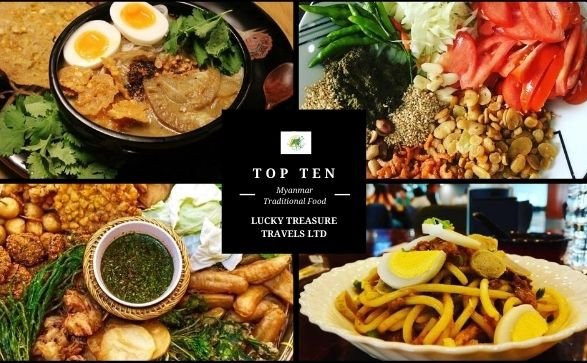 1. Mohinga
2. Nan Gyi Thote
3. Tea leaf salad (La Phat Thote)
4. Burmese Tempura (A kyaw Sone)
5. Myanmar Staple Food, rice and curry
6. Shan Noodle
7. Shan style rice
8. Coconut noodle
9. Si Htamin
10.Tea Shop and snack

1. Mohinga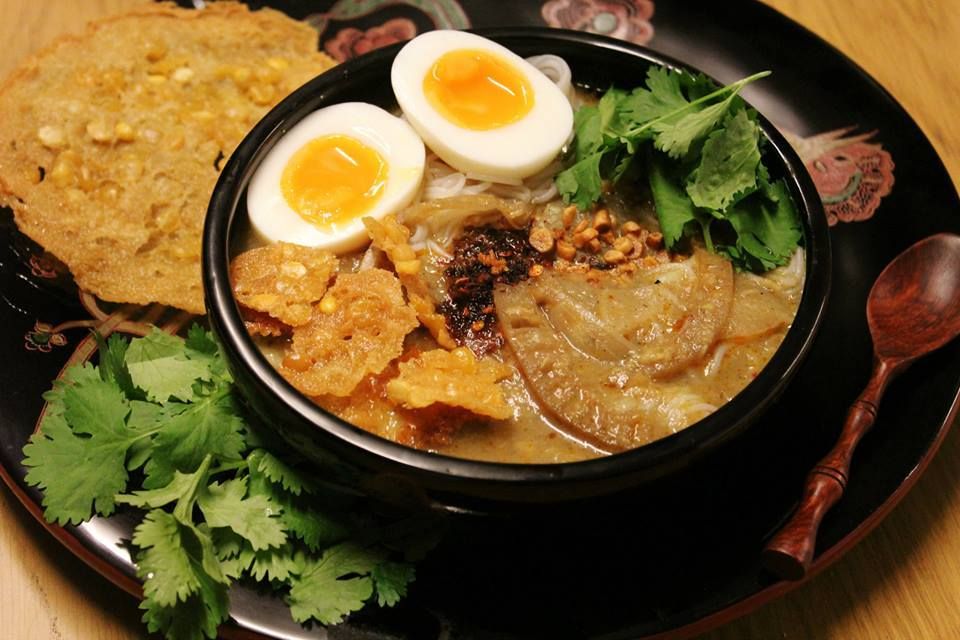 Mohinga is the most popular and famous breakfast in Myanmar. It is served with the crispy fried bean fritters, boiled eggs, onions, the sliced tender core of banana-steam. You can add drops of lime juice, fish sauce, dry chili powder, coriander or beans if you like for your preferable taste. You can also choose boiled eggs ( oe bal ou ), fried fish cake (nga hpe) and fritters (akyaw) with your favourite. Mohinga is not only an essential breakfast for Myanmar people but also taken as a snack throughout the day.
Do you know how much Myanmar people love Mohinga? They can eat all day without other meals and rice.
2. Nan Gyi Thote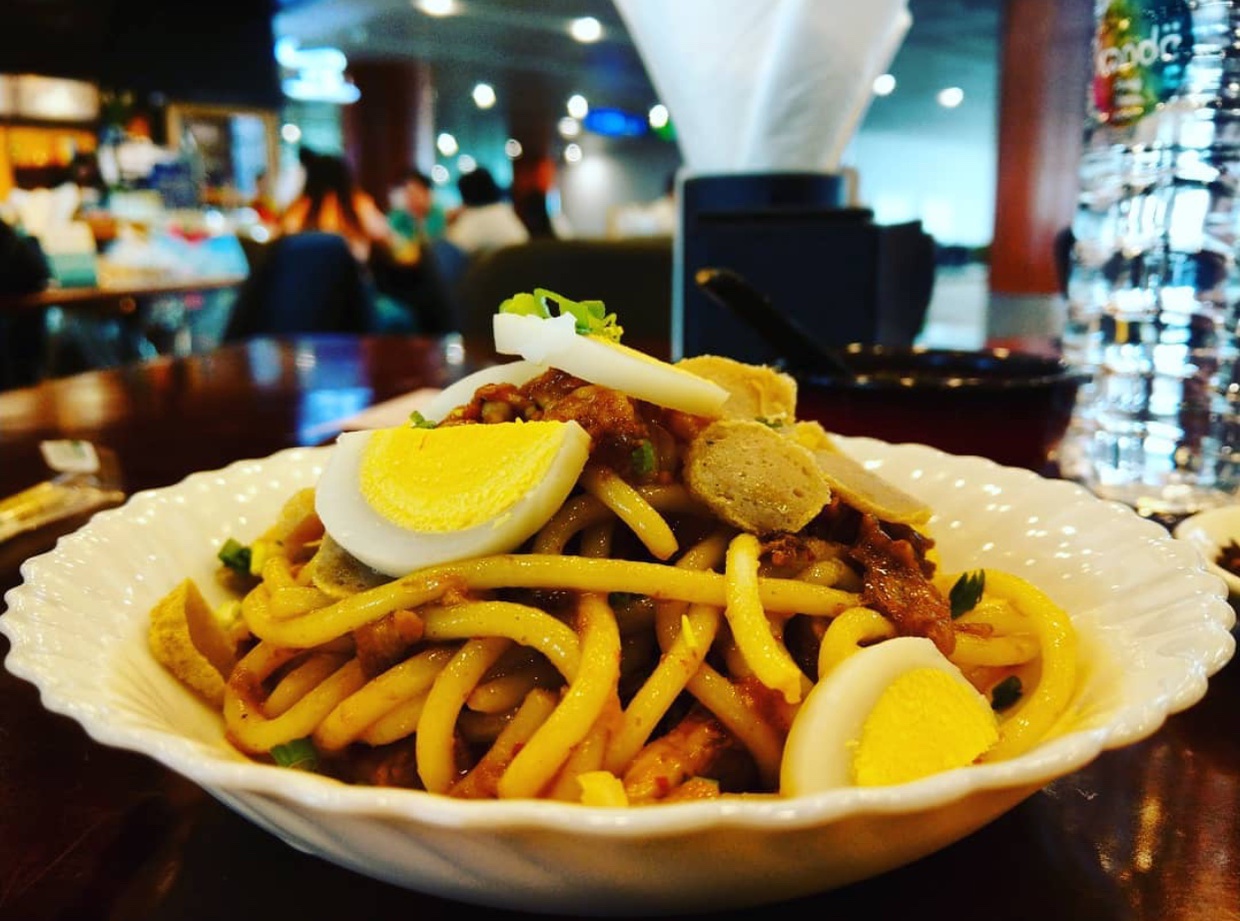 Nan Gyi Thote is one of the most popular trademarks of Myanmar breakfast and you shouldn't miss it. It's a noodle salad made with thick round rice noodles mixed with flavourful chicken curry. Nan Gyi Thote is often garnished with a slice of boiled egg, onions, coriander, slice of lime and with crispy fritters. The taste of the noodles is a combination of sweet, sour, salty and fresh and you can eat in almost all the local tea shops and even street vendors in the early morning.
3. Tea Leaf Salad  (La Phat Thoke)
Tea Leaf Salad (La Phat Thoke) is a traditional Myanmar food which is a kind of salad made from tea leaves and mixed with shredded small cabbage, sliced tomatoes, nuts and peas, sliced filets, spicy pepper and garlic. The texture of the salad is unique, the taste is a combination of soft, bitter, sour and also spicy. Burmese people have Tea Leaf Salad just a snack, an appetizer or paired with a plate of rice as a meal. You can try it in restaurants as well as streetside stalls. Once you try it, you will understand why Burmese people love it.
4. Burmese Tempura (Akyaw Sone)
Burmese Tempura (Akyaw Sone) is essential for Burmese's people breakfast and favourite of all and love to enjoy with steamed rice. Sometimes burmese people enjoy Akyaw Sone just as a snack. Burmese Tempura includes a variety of things which are deep fried like onion, potato, peas, bananas, shrimp and so on. Burmese Tempura (Akyaw Sone) cannot be perfect without its sauce. Enjoy Burmese Tempura street food with a cup of plain tea just like a local when you are in Myanmar.
5. Myanmar staple food rice and curry
It will not be complete when talking about Myanmar traditional food without mentioning Myanmar staple food rice and curry.  Rice is the Myanmar staple food and a typical Myanmar meal includes a plate of steam-rice as the main dish and accompanying  dishes with different curries of fish, chicken or pork, salad, a bowl of  light soup and a curried sauce of pickle fish (ngapi yay). Burmese people always eat with the right hand of the fingers and dishes are provided with serving spoons to be handled with the left hand. After the meal, Burmese people eat pickled tea leaves, green tea and palm sugar as a dessert. If you truly want to experience Myanmar local life, you shouldn't miss it. 
6. Shan Noodle
It will not be complete when talking about Myanmar traditional food without mentioning Shan Noodle. It is one of the most famous foods in Myanmar. You can have Shan Noodles either as a soup or as a salad. The thick and round rice noodles are prepared with marinated chicken or pork, juicy tomatoes,  garnished with toasted sesame or garlic oil. Most Myanmar people like it and commonly eat it as breakfast, lunch or a kind of snack.
7. Shan Style Rice
Shan rice or Nga Htamin is originally a traditional food of the Shan ethnic group but it is popular throughout Myanmar. It is the most typical Myanmar food, rice mixed with tomato, potato and fish kneaded into round balls, then topped with crisp fried onion, garlic, tamarind sauce, coriander.
8. Coconut Noodle
If you are a big fan of coconut milk based soups, you shouldn't miss coconut noodles when you are visiting Myanmar. Coconut Noodle is Burmese noodle dish which consists of wheat noodles with creamy spiced chicken coconut broth. And you can garnished with fritters, hard-boiled egg and choose your favourite with lime, chillies or fish sauce. The flavors will be wonderful with creamy coconut chicken noodle soup.
9. Si Htamin ( Yellow Sticky Rice)
Myanmar people have the habit of consuming relishes and savory snacks. In the early morning, Myanmar people usually have warm or hot snacks as their breakfast. Si Htamin ( Yellow Sticky Rice) is one of the popular local breakfast items. Si Htamin is made of glutinous rice cooked with turmeric, salt, onions and served with roasted sesame seeds, boiled yellow peas and garnished with freshly grated coconut, salted fish. Enjoy this simple breakfast with a cup of coffee or burmese tea.
10. Tea shop and snack
Burmese people have the habit of having breakfast at the tea shop and sitting in teahouses during their leisure time for business meetings, hanging out with friends, discussing politics, and reading newspapers. Tea shops are the most populated and frequented places in Yangon. In the morning, the tea shops are busy and most Myanmar people enjoy their breakfast before going to the office. Burmese cups of tea usually combine black tea leaves and condensed milk. And also try samosa, ei kyar kway, pa lar tar and nan pyar. If you want to exchange culture, you should go to a tea shop in the early morning.