Myanmar Boarding Pass
Posted on Fri September 18, 2020.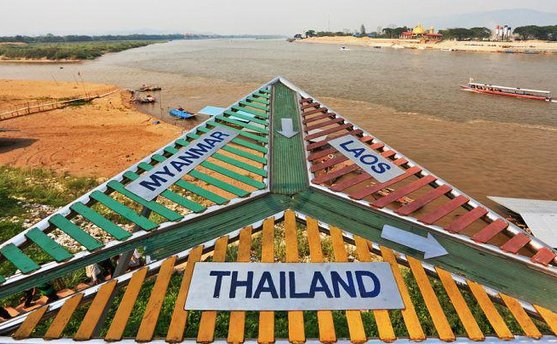 Myanmar- Thailand Boarding Pass
Myanmar-Lao Boarding Pass
Myanmar-India Boarding Pass
When Myanmar opens political, commercial opens its door to the world, it's become an opportunity for travellers who wish to travel overland journeys from neighbouring countries to Myanmar.
At the present, you can travel from Myanmar to Thailand, China, India and Laos with certain borders gates.

Myanmar-Thai Border Crossing
There are four land-crossings between Myanmar and Thailand. 
Tachileik-Maesai
Myawaddy-Mae Sot
Kawthaung-Ranong
Htee Kee-Phunaron Myanmar-Thai Border Crossing
Myanmar-Thailand Border Checkpoints are allowed to enter for citizens of two countries and citizens of third countries who hold passports and visas and they are permitted to enter/exit via any International Entry/Exit points.
Tourist Visa for citizens from (100) countries and Business Visa for citizens from (52) countries can be applied online e-visa. Myawaddy, Tackileik and KawThaung International Border Checkpoints in Myanmar-Thailand border are allowed to enter with e-visa on (1.9.2016) besides Yangon, Mandalay and Naypyidaw International Airports.
Tachileik-Maesai Border Land Crossing.
Tachileik-Maesai land crossing which connects Myanmar's town of Tachileik in the Shan State of eastern Myanmar to Maesai district in the far north of Chiang Rai Province, Thailand. Foreign tourists can easily cross the border into Myanmar and you don't need a visa to cross into Myanmar if you enter back into Thailand on the same day.  If you are planning to travel as far as Kyaing Tong, you can travel by road. It is not possible to continue further unless you book a flight.
Myawaddy-Mae Sot Border Land Crossing
Myawaddy-Mae Sot Land Crossing which connects Myanmar's town of Myawaddy in southeastern Myanmar in Kayin State to Mae Sot in the Thai province of Task. Myawaddy border crossing is the main overland entry point for foreigners wishing to get from Bangkok to Yangon or Thailand to Myanmar in general and vice-versa. Foreign visitors can now enjoy spectacular mountain scenery in the eastern part of Karen State. It is well-connected by bus on the Thai side and onward transportation when in Myanmar is also relatively straight-forward.
Kawthaung-Ranong Border Land Crossing
Kawthaung-Ranong Land Crossing which connects Myanmar's town of Kawthaung in the southernmost part of Myanmar, in the Tanintharyi Region to Ranong Province in southern Thailand. If you are a beach lover, love to relax at the spectacular beaches and splash some cash at the border casino, Ranon-Kawthoung is the best border crossing from Myanmar to Thailand. This is also the most convenient crossing for people who are continuing to Myanmar from Southern Thailand. The boat crossing between the two countries takes around 20 minutes and there are regular boat services.
Htee Kee-Phunaron
Phunaron, located in Thailand's province of Kanchanaburi, is a remote town with a border crossing into Myanmar. Crossing to Htee Khee, the nearest major town on the Myanmar side is Dawei, which is around a five-hour drive from the border. This border is most convenient for people who travel to Myanmar directly from Bangkok, Kanchanaburi province and are interested in seeing Dawei, Myeik, Mergui Archipelago and nearby virgin beaches.
Myanmar-Laos Boarding Pass
Myanmar-Laos Friendship Bridge opened in 2015 that connects Kyainglap in eastern Shan state with Xieng Kok in Luang Namtha Province. It is the only bridge crossing the Mekong River to connect the two countries. Now, the border gate between Myanmar and Laos has been upgraded and given international status, according to the Ministry of Labour, Immigration and Population. The ministry has upgraded the Wan Pong checkpoint in Tachilek, Shan State, making it an international border entry point for Myanmar and Laos. 
The Wan Pong checkpoint is the seventh international border gate where third-country national travellers with passports and visas can pass through after Myawaddy, Kawthaung, Htee Khee, Tachileik, Tamu and Rikhawdar in Myanmar.
The border agreement will allow citizens of the two countries and third-country national travellers to cross the border between Myanmar and Laos through Wan Pong with the necessary visas or passports.
There are no direct flights between Myanmar and Laos, so third country travellers have to pass Thailand either by air or land to enter Myanmar. Now, travellers who like to travel by land especially FIT travellers can travel to Myanmar without passing through the third country.
Myanmar-India Border Crossing
There are two open border crossings connecting Myanmar and India, Tamu-Moreh Border Checkpoint and Rikhawadar-Zokhawthar Border Checkpoint. 
The Tamu-Moreh Border Crossing which connects Myanmar's town of Tamu to Tengnoupal district of Indian state of Manipur. Travellers are able to get a Visa upon arrival at this border checkpoint and can apply for a visa through the government website then travel with your visa approval document till the border.
The Rikhawadar-Zokhawthar Border Crossing which connects Phalan District in Chin State to India's Champai district in Mizoram. The border agreement will allow citizens of the two countries and third-country travellers to cross the borders between Myanmar and India through the two gates by obtaining Visa and E-visa permit.