Responsible Travel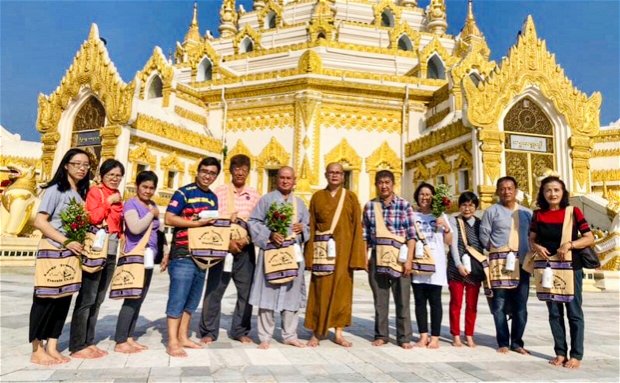 We are committed to a sustainable future and to improving the social, economic and environmental well being of our community. We are dedicated to environmental improvements that foster a sustainable future and lead to social and economic improvements in the community we do business. We commit that we will further local communities and organizations in our destinations everywhere we go.
Sustainability Policy
Our Internal Management
We commit to following practice for our internal management:
Abided by Myanmar Labour laws and all employees receive appropriate living wage including overtime compensation.
Entitled to a fixed number of paid holidays each year.
Ensure equal opportunities for all employees without discrimination.
All of our staff receive their relevant job regular training including sustainability training for their personal development.
We care about our local community and our environment
We support local community projects that promote environmental protection, conservation, and cultural heritage.
We do not offer excursions that harm animals.
Do not promote souvenirs that contain threatened flora and fauna species.
We support the local community by purchasing reusable Shan Bags for our clients from Inle Lake in the Nyaungshwe Township of Taunggyi District of Shan State.
Lucky Treasure Travels try to minimize carbon footprint, more sustainable and responsible to become greener offices in the near future.  
Purchase in sustainable ways
Whenever, wherever possible we purchase materials that have the lowest possible impact on the natural environment. We prefer to purchase materials that recycle and reusable products and purchase in bulk to reduce packaging. Purchase locally produced fair trade and organic goods.
Reduce energy/water consumption
Reduce energy consumption as much as possible in our office by the following implement action,
We have replaced more energy-efficient lighting LED light bulbs instead of original lighting bulbs.
Set the switch-off policy in our office to save energy on lighting & electrical equipment and ensure that office lights switched-off when space is not being used and after office hours.
Awareness stickers and signs are set on the noticeboard that made by our staff to remind them. 
Ensure all staff members are aware of not taps running. In our office, we use the squatting pan toilet to reduce the water that consumes less water per flush than Western toilets.
Reduce waste consumption
Waste is reduced, separated, reused and recycled at our office. Separated the waste for recycling of plastic, glass, cans, paper & cardboard and sent to Recyglo to know monthly measurable waste and implement for reduction monthly.
We think twice before printed and only print when if it's really necessary. Print double-sided and Re-use single printed for notes or draft prints. We save paper by sending ticket invoices and mainly via email, other social networks whenever possible.
Providing refillable water bottles for our staff members, purchase in large water bottles (20 liters) and use mugs and glasses to drink water for our customers who come to our office to reduce the use of plastic water bottles. Our staff also use the reusable box for lunch packaging.
Reduce pollution for our environment
Life has become unimaginable without transport. And most of the vehicles need fossil fuel that produces greenhouse gases and becomes global warming and climate change. Lucky Treasure Travels team members make a contribution to reducing CO2 emissions significantly by taking the bike and use public transport whenever they go from home to work and some employees who live near the office they take a walk to the office.
For our suppliers
Inform all our suppliers of our sustainability policy, commitment and encourage all suppliers to join the process. 
Selecting accommodations that comply with sustainability and quality standards with water, waste, energy management, safety, and child protection policy.
Encourage transport suppliers to use the new model vehicle and sent sustainability awareness guidelines and code of conduct for drivers.
Ensure all of our tour guides, tour leaders and local representative are comply with our sustainability and commitment. 
For our clients
We inform our sustainability policy and commitment to our clients.
We distribute useful information which best practices for travellers such as Dos & Don'ts, code of conduct and travellers information which to avoid sexual exploitation, to respect local culture and tradition, to preference local services and goods before they arrive in Myanmar.
Communicate to our clients that we offer sustainable accommodation and excursions in our destinations.
Dos and Don'ts in Myanmar
For detail information on our sustainability policy, contact Mr.Kyaw Win Tun ([email protected]).