Thanakhar (Burmese Traditional Make-up)
Posted on Fri August 21, 2020.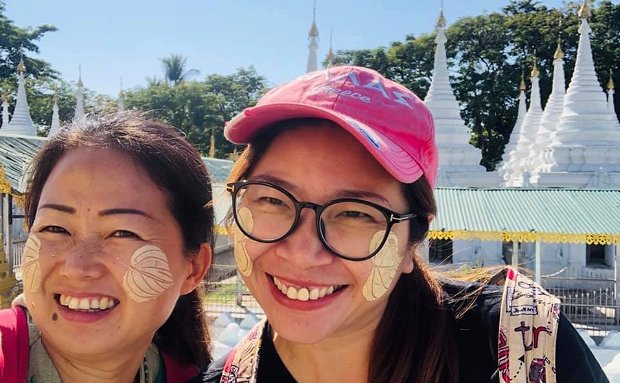 Have you ever travelled to Myanmar? Whether you have been to Myanmar or just see the travel blog about Myanmar, exactly you will see the image of little children, girls even men and old ladies who are wearing yellow paste on their cheeks. Do you know what that is?
This paste is called Thanakha.

What is Thanakha?
Thanakha is a unique traditional makeup and essential of Burmese people for their daily life. Thanakha is derived from the finely ground bark of the Thanakha tree.  Burmese people grind the tree bark against a flat and wet circular smooth stone then put the paste on the face and make the circle on the cheek. Thanakha paste has slightly yellowish color with the little silky texture and the pleasant smell of tree bark. Burmese people have been wearing Thanaka on their faces every day throughout the country for many centuries.
Benefit of the Thanakha 
Thanakha is a natural cosmetic that you can only see in Myanmar. Thanaka bark is highly antioxidant, vitamin E and absorbs UV rays which protect our skin against free radicals and polluted air. It's also protected from the sun, lightening of the skin. When you put Thanakha on your face, you will feel very cool on your skin. Burmese people wear Thanakha during the day for sun protection and after taking a bath or wash face at night to cleanse, nourish and calm the skins with its rich and natural ingredients. Thanakha can also prevent oiliness, spots, acne and keeps the skin smooth. Myanmar people use Thanakha daily from the kids to smooth their faces when they grow up. In the village, the farmer and women wear Thanakha on the face and also arms and legs to protect the sunlight for the whole day when they go to the farm.
When you travel Bagan, you will see adorned children with Thanakha who will ask you to try to wear Thanakha with traditional decorative makeup like a leaf or circle. 
Don't miss to put the Thanakha on your pretty cheeks when you travel in Myanmar.